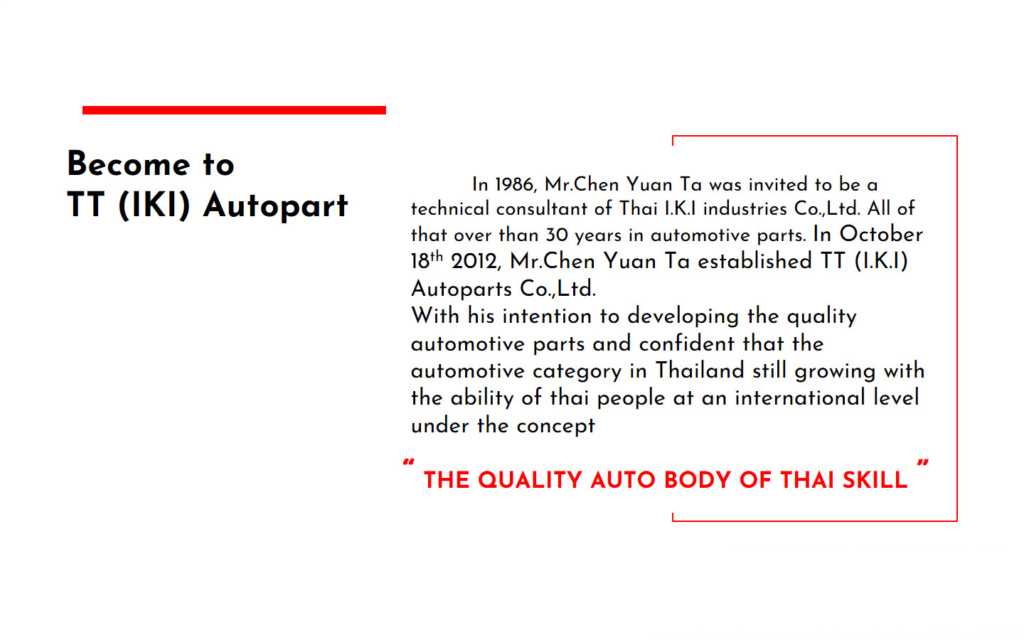 is one of the leading manufacturers for plastic parts and sourcing hub
for all kind of automotive parts in Thailand
and Replacement equipment manufacturer in Thailand.
TT (I.K.I) was established in September 2012.
We found a professional team continue from Taiwan Tong Yang Group
(such company of Tong Yang IKI). Automotive replacement parts manufacturing
which experienced continual expansion in such ways that extended its production base to body parts plant and
eventually a vertically integrated company with world class manufactory standards.
With over 15 years of experiences and technology, profession expertise, strong client base
and plastics injection technology, TT (I.K.I) has manifested continued development and
has been able to meet customer's requirements.
Our main product lines are for Japanese truck and passenger car,
covering all major Japanese brands; Toyota, Nissan, Isuzu, Mazda, Mitsubishi, Hino, Honda.
We also can make tolling and product according to customer order
for all plastic products and metal stampings.
We strongly hope to develop mutually beneficial business cooperation
with your esteemed firm and we believe with our customer,
we will see an even more prosperous business in future.

♥